Sarah Louise Pink Smocked Dress. Party season is coming very close, now we are all getting ready for summer parties.
Now is the time to pick some unique and bargain summer party dresses. Our choice this summer is this lovely Pink Smocked Dress by Sarah Loise,  mums this is a party must have.
It comes in a sizes 6 months to 24 months. price is £39.95
Ralph Lauren Boys Big Pony Oxford Shirt.Soft cotton shirt by Ralph Lauren  , with a little side multi colour logo, "Big Pony" like all oxford classic shirt it has a front button-through oxford design, long sleeves, light blue,  button down collar, good for both formal and informal outing, this blue opal shirt is a must have in any little boys wardrobe, it gives our little boys clean cut look. A good Christmas gift 
Worn with chinos or jeans both are perfect match, can be rolled up for that casual looks, can also be worn with a tie and under a coat,  will look lovely  worn  on a cream chinos  and  black mocassin  or "brown suede|" penny loafers will give the complete look.
Ralph Lauren Boys Big Pony Oxford Shirt,  comes in sizes 2 to 16 , price £49.95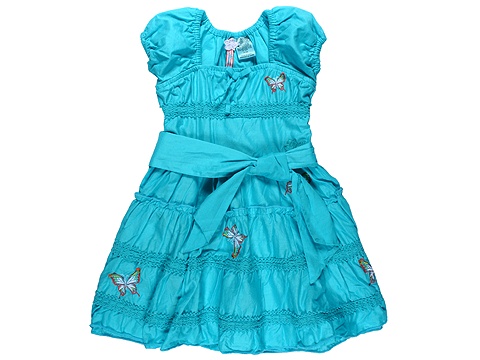 GUESS Kids' – Tiered Dress W/ Embroidery (Toddler) (Turquoise) – Apparel
. Blue or Turquoise, this i a beautiful bright coloured Tiered Dress with an all over embroidery butterfly,  a lovely four layered styled ruffle dress, a big  lovely sash belt for better fitting, puff sleeve and a puff neck line, with a puff  chest, this styles gives our little ones good body fitting and all day comfort.
It also has a back zip for easy wear, a lovely dress  for most occasion, for our little ones, they will look sweet and adorable in this lovely Tiered and  Embroidery Dress, it comes in sizes 4T, all other sizes not available, price $42.50
Burberry Boys Black Union Jack Top. A cool and lovely color mix, Black Union Jack Top  by Burberry, with the weather getting cold, this union jack top is a perfect one to buy, why not buy and dress your little one in style this Christmas only  sizes 8 and 10 years available, low in stock, price £29.00 this price is a steal for a designer like ,  Burberry

Girls Bow Classic Red Leather Mary Janes with Dainty Bow
. This is the time of the year when most people are looking for gift and present to buy  for their little ones,  as well as a bargain price, but don't know what to buy, you can start with this lovely Classic Red Leather Mary Janes with Dainty Bow For Girls.
It comes in sizes 5 to 10, and you can get this Classic Red Leather Mary Janes with Dainty Bow for £37.83
Timberland Boys Blue Euro Hiker Boot.  A multi colour hiker boot for boys, with lace up, long full collar tongue, suede upper,  with thick sole for balance and  comfort ,  as well as  for rocky climbing .
There is   Timberland  logo on back side and also a print of  Timberland on the front side,  there is also a logo of Timberland on the long tongue collar. Timberland Boys Blue Euro Hiker Boot, comes in sizes 1 to 13 than sizes  1 to 3, you can get it  for  good price of  £44.95