According to Africa Answers, Tuface, BankyW, D'Banj and PSquare are among Africa's Ten Wealthiest Artistes.
And in their list, they placed BankyW as number 9, 2Face Idibia got their 7th position, D'Banj came 3rd while PSquare was placed 2nd after Senegalese singer Youssou N'Dour who topped the list.

About their earning, AfricaAnswers wrote that PSquare make more than $150,000 per show. Their Squareville which is  located at Ikeja is worth $3 million and as part of their brand support, they also have a 3 years deal with Globalcom; a Nigerian telecommunication company as brand ambassadors where they are paid a million dollars a year.
D banj, they said, made $1 million dollars when he was paid by a T.V station to star on his own reality show called the Koko Mansion. He has a crib in Atlanta worth of $1.5 million and reportedly charges on the upside of $100000 per show currently.
Tuface has a vast investment in real estate across Nigeria, earns around $50k to $80k per show and owns a night club in Nigeria just to name a few.
For Banky W, they wrote he has been a brand ambassador for Estisalat mobile in Nigeria and is currently the face for Samsung products in the west African nation. Out of his generous heart, Banky W has started off Mr capable foundation; an education charity organization with the aim to aid in the education of children from poor families.
About a year and half after ending his marriage to Onyeka Odiegwu, Ceecon Oil and Gas boss Chima Anyaso is engaged again. He proposed to his girlfriend of six months, Adanna Nzeribe, last night in Dubaiduring her 25th birthday.
This will be Chima's third attempt at matrimony in the last five years. He was briefly married to former Governor Orji Uzor Kalu's daughter, Neya Kalu. Neya walked out of the union after a wine carrying ceremony that held in 2009. Chima then married Onyeka in 2011 but that marriage lasted less than a year. He's engaged again. But you know what they say, third time's a charm.
Adanna is the daughter of late music legend Harry 'Moscoe' Agada but her mum later married Arthur Nzeribe so she's Adanna Nzeribe. Congrats to them. See a photo from her birthday party after the cut.
Mrs Olubunmi Oke, a nursing mother and reporter with the Nigerian Television Authority, NTA who was released by her captors on Saturday, had narrated her three-day ordeal in the camp of the kidnappers.
According to her, "I noticed a car following me at a high speed, so I had to increase the speed with which I was driving and I rolled up my glass.
"Very close to Jojein Hotel, Oba-Ile, the road was very bad. So I had to slow down to carefully maneuvre through the potholes. It was at that point that they levelled up with me and I was double-crossed.
"I asked them what my offence was. I even offered them my car keys but three of them, armed with guns, dragged me into their car. One of them got into my car and drove behind us.
"They drove through Owode to FUTA and to Ondo.They told me they were taking me to Delta State but when we got to Ore, they blindfolded me.
"They blindfolded me from Thursday night till Saturday night when I was released. So it was impossible for me to know where I was.
"My housemaid and six-month-old baby were in the car with me. They dropped them on the road before driving my car away. They later got home in a public transport. I learnt they also dropped my car at Igbara-Oke.
"At present, the car is with the Special Anti- Robbery Squad, SARS. When I was released on Saturday, they gave me my car keys. I hope to get the car during the week.
Oke alleged that she does not suspect that anybody sent the abductors to her, claiming that the gunmen did not know her, but was only a victim of random kidnapping.
"Nobody sent them to me. It was a case of random kidnapping. I just walked into their hands. I do not want to believe anyone sent them to me because when they got me, they were asking me series of questions, 'Where do you work?' 'Who are you?'
"I think that showed clearly that they did not know anything about me. I think the car I was driving coupled with the way I was dressed (I read news that evening; so I still had my clothes and jewelry on) made them think I was a good catch," the nursing mother said.
Oke said she did not eat for the three days she spent in her captors' den. She also affirmed that no ransom was paid for her release.
Just in case you have heard or read that story about headless bodies of three suspected female students being thrown out from a Range Rover and dumped an area in Ijebu Ode, please do not believe that story.
The Ogun State Police Command has debunked the message that circulated via BlackBerry that:
"Three headless bodies suspected to be that of females were thrown off a Range Rover Sport Jeep at Ijebu Ode-Ibadan Road just now.
One is fair in complexion with University of Lagos identity card (Yetunde Ajao) inside her bag. The second is an Olabisi Onabanjo University student, Oyindamola Esan, also fair in complexion and tall.
The last one is short, plump and dark with no identity. Please kindly notify their families and friends if you know them before the bodies are run over by vehicles."
The pictures above were supposedly those of the beheaded girls.
But the spokesperson for the state police command, Muyiwa Adejobi, told Punch correspondent that the rumours were mischievous and simply untrue.
"When I heard about it, I alerted our men who went there but saw nothing and got no report of such thing in the area," Adejobi said.
It was also learnt that many residents of the town, who read the broadcast, abandoned their activities and went to Ijebu Ode-Ibadan Road in search of the corpses.
One of them, Tolu Olaleye, said, "We have been here for the past three hours searching all the bushes, but we are yet to see anything. People have turned this road to tourist centre."
A visit to UNILAG by PUNCH Metro showed that there was no student in its database with the name of Yetunde Ajao.
A source said school officials had cross referenced the institution's data with the name without success.
The source said, "We also received the message about the headless bodies of three girls, one of which was believed to be a student of UNILAG. We checked all our digital records but the name Yetunde Ajao did not come up."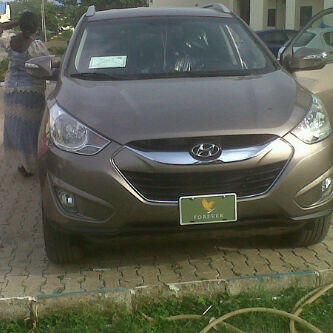 Nigerian actress Susan Peters shared the above picture and caption it with "My senior sister got this car from forever living products yesterday, I told you peeps it works!!!".  The car is really cool, congrats to her sister. For info's on forever living product log on www.flpnigeria.com
So, Gov Akpabio has doled out millions to the Super Eagles, given some of his PDP party colleagues N1m lunch money, bought a jeep for Annie, allegedly bought expensive bullet proof vans.
Well, to get their own share, hundreds of widows in Akwa Ibom State on Monday trooped to the  Government House, Uyo, urging Governor Godswill Akpabio to empower them financially to enable them establish small-scale businesses.
The widows, who came in buses from the 31 local government areas in the state, lamented that they were dying in pain and hunger and they had been watching on TV how the governor had been empowering other less-privileged people.
But unfortunately, they couldn't see the governor.
And according to the News Agency of Nigeria (NAN), this was because the governor had reportedly travelled out of the state for official engagements.
The widows however insisted that they would continue to pay visits to the governor until he attended to them.