Monnalisa Chic White Heart T-Shirt. Monnalisa Chic white t-shirt with diamante detail and fluttering red hearts decorating the front.
Mums this is a summer must have, can be worn over any little mini skirt, shorts or trousers, comes in sizes 4 to 14 years, price £59.95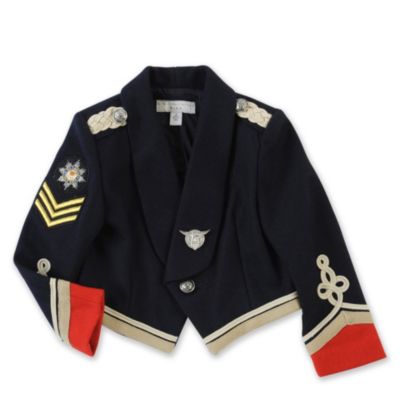 STELLA MCCARTNEY Cropped military jacket : classic and chic for our little miss, this is beautiful and classy a must have cropped military jacket from our latest and fvorite designer Stella Mccartney, this lovely multi colour stylish cropped is a beauty, the next good thing about this top is the price.
Comes in sizes 2 years to 12 years, for a designer top like this, £128.00 is a steal. Buy now.


Miss Grant Ivory T-Shirt With Detachable Necklace. Mums this is a party must have, a pretty with peal necklace on an ivory fabric, this is a gorgeous top for our little miss.
Can be worn to special occasion and parties, comes in sizes 7 years to sizes 13 years, sold for £53:95

Microbe By Grant White T-Shirt With Hearts.  A pretty and cool casual top for our little princess, these White T-Shirt With Hearts by Grant is a party must have this season.
Dress it up over a skinny jeans or leggings, for cold weather wear a little inner long sleeve tee, complete the dress with high top boots for jeans, and for leggings with a high boots. Comes in sizes 12 months to 7 years, price is £38.95

Catimini White Floral Cardigan. It always lovely to see kids cardigan in such colourful  colours,  our little ones will look cute and bright in this grey weather, where most of the colours for cardigans are always dull.
Catimini White Floral Cardigan can be worn over dresses or leggings, or trousers, comes in sizes 12 months to 4 years, sold for £56.95